Sunday, December 20, 2009
Katie playing in the snow!
Monday, December 21, 2009
I went to the health department and got my H1N1 flu shot.
Tuesday, December 22, 2009
Katie has found her place with the new furniture.  The arms on the chair and couch are much higher than the old ones so she can't sit and look out the back door like she used too.  Now she lays on the recliner.
No picture for Wednesday!
Thursday, December 24, 2009
I just give Susan and the kids money for Xmas.  I've got their stuff ready to go for tomorrow.  I had the envelopes taped to the bears and under the tree but Katie decided the bears were for her to play with.
Friday, December 25
We opened our gifts at home.  Katie opened her presents first.  About the only things wrapped under the tree were from Roberta!  Since we each bought our own, we didn't feel like wrapping them!
Roberta gave us some good Wisconsin cheese, some cheese utensils, and a really neat cheese cutter.
She gave me these cute little Home Grown figurines!
Here's Katie wearing her elf hat!
Later we went to Susan's!
Here are the kids and the table!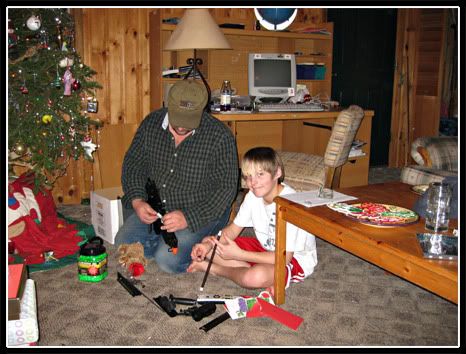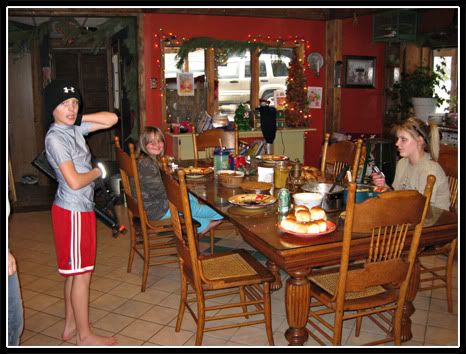 After dinner we came home and Billie Jo came to visit.  We just relaxed the rest of the evening.
Saturday, December 26
We spent the day relaxing and playing with Katie!